Jennifer Maxwell
GRI
RE/MAX Alliance Group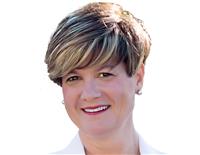 Contact Jennifer
725 W Elliot Rd Ste 111
,
Gilbert
,
AZ
85233
(480) 892-5300
|
www.jenmax.net
In the real estate market, Realtor® Jen Maxwell brings over 30 years of professional experience to the table. Formerly with Coldwell Banker Residential Brokerage in Massachusetts, Jen Max achieved President Club status two years running as one of its top‐producing residential real estate agents in the United States, selling over selling over $80 million in new construction condominium conversions of the historical Haviland Candy Factory (now owned and relocated by the NECCO candy factory famous for NECCO wafers, Sweethearts, Thin Mints, Clark Bar, Candy Buttons, Mary Janes etc.), a location at which her grandmother, Margaret Hennessey, had worked during the 1940s.

Her prior 13 years as a stock broker and Certified Financial Manager with Merrill
Lynch Financial Advisors in Boston, MA gives her inside perspective on the financial highs and lows of the real estate market as a financial investment.
As a communicator, Jen's experience as a freelance radio reporter and producer
for programs which aired on National Public Radio, Australian Broadcasting
Corporation, Public Radio International, Voice of America and Monitor Radio and
her year's as the on‐air Music Critic for Monitor Television's One Norway Street,
making her uniquely qualified to assist her clients in navigating the buying and
selling of residential real estate.

In March of 2018, Jen received Most Improved Agent of the Year Award of
Achievement and Excellence from RE/MAX Infinity and was subsequently awarded the RE/MAX Executive Club Status. In 2019, she achieved RE/MAX 100% Club Status.

Jen Max is an avid salsa dancer and is a competitive roller skater. As a member of the Arizona Skate Club, Jen is a regionally ranked 4th and nationally ranked 6th as roller dancer in the USA
We're here to help!
For more information about classes and events, please contact us using the information below.
Someone from our
Member Service Team
will contact you during business hours to answer your questions.
Contact & Visit Us
Our office phone numbers connect to all locations. Our team members can assist you from any location or connect you to someone at another location.
We welcome walk-ins and appointments during our business hours. All WeSERV offices are closed for state and federal holidays.

Main Number:
480-477-5882

Toll-Free:
855-931-9294
Fax:
623-931-1008
Cochise County Chapter
Monday-Friday 8:00 AM-5:00 PM
Closed for lunch 12:00-1:00 PM, daily
125 S 2nd St, Sierra Vista, AZ 85635 
520-458-7802
Pinal County Chapter

Monday-Friday, 8:00 AM-4:30 PM
820 W Cottonwood Ln, #9, Casa Grande, AZ 85122
520-421-1222
Santa Cruz County Chapter
Monday-Friday, 8:00 AM-3:00 PM
8 Martan Rd, Nogales, AZ 85621
520-377-9613
Southeast Valley Chapter

Monday-Friday, 8:00 AM-5:00 PM
1733 E Northrop Blvd, Chandler, AZ 85286
480-477-5882

West Valley Chapter
Monday-Friday, 8:00 AM-5:00 PM
9001 W Union Hills Dr, #8, Peoria, AZ 85382
623-931-9294